Do you want to learn how to start a Christian blog?
With the rise in popularity of online posts, Christian blogging for beginners has never been easier. All you need are some simple steps on how to start a Christian blog to do it yourself.
In this guide, we'll walk you through the steps of starting a successful blog for Christians, from coming up with a blog theme to promoting it online.
So whether you're looking to share your faith with the world, or simply to document your journey as a Christian, or earn an income for your family, there are 11 easy steps that you can take to help you get started.
But before we talk about the steps, here are 3 things to keep in mind:
1. First, pray and ask God for guidance. This is true for any decision in life, but especially when considering how to start a Christian blog. Ask God to give you clarity and direction before you take this step.
Proverbs 3:5-6 says:
"Trust in the Lord with all your heart. Never rely on what you think you know. Remember the Lord in everything you do, and he will show you the right way." Good News Bible (GNB).
2. Once you have a clear vision for your blog, it's time to start writing.
If you're not sure where to begin, try writing about your personal journey of faith, or share a story from your church or community that has impacted you.
3. Be sure to proofread your posts before hitting "publish" – nobody wants to read a blog full of typos.
Take the time to edit and revise your work, so that it is clear and readable.
So as a beginner Christian blogger, these 11 simple steps will teach you the tools and other things you need to successfully launch your blog.
If there is a particular topic you are interested in, just click on the name to jump ahead to it.
1. Choose a niche idea for your blog
5. Select a theme and design for your blog
6. Build important web pages and create a logo
9. Setup your email marketing list
11. Monetize your blog – start making money
Disclosure: Some of the links in this article may be affiliate links. If you click on any of them and make a purchase, we may receive a commission at no extra cost to you.
What Exactly is a Blog?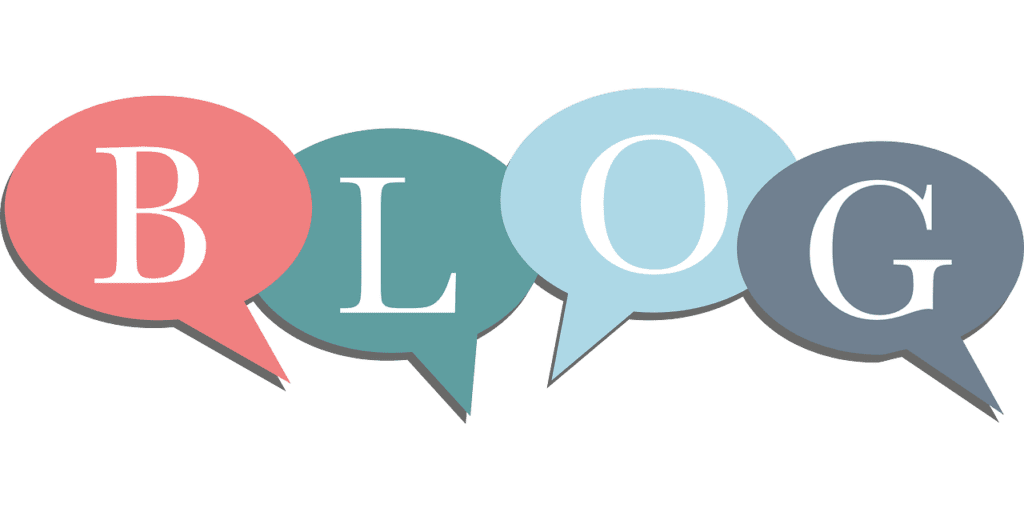 In a nutshell, a blog is a specific kind of website or part of a website that focuses mostly on written material, often known as blog posts or entries.
Bloggers frequently write from a personal point of view, which enables them to connect directly with the people who read their work.
In addition, the vast majority of blogs provide a "comments" area where site visitors are able to engage in conversation with the blogger.
It is helpful to further develop the connection between you the blogger and the reader. You can do this by engaging in conversation with site visitors in the comments area.
One of the primary advantages of knowing how to start a Christian blog and maintaining it, is the ability to maintain a direct relationship with the reader.
Because of this connection, you will be able to converse and exchange ideas with other individuals who have similar perspectives.
Additionally, maintaining a blog enables you to establish trust with your audience.
Having the trust and commitment of your readers is one of the first steps toward monetizing your blog. We will cover this topic in more depth later in this guide.
Step 1 – Choose a Niche Idea for Your Blog
If you're looking for a creative outlet or a way to connect with other like-minded individuals, knowing how to start a Christian blog might just be the perfect solution.
In today's digital age, blogs have become an increasingly popular way to express one's views and share ideas with others. And as a Christian, blogging can also be an excellent way to explore your faith and grow your relationship with God.
At the heart of any effective blog topic is a well-organized and compelling content strategy.
To get started, you'll need to choose a niche idea that has both personal and professional value for you.
Some great options include topics on family life, parenting tips, helpful organization and productivity tips, or any number of other interests that are important to you.
Whatever Christian blog post idea you decide on, make sure it aligns with your values as well as your goals and theme for the blog.
As Bible teachers and Christian bloggers, we have found that one of the most important factors in starting a successful blog is having a strong sense of purpose and focus.
Whether you are writing about theology or family life or any other topic within the faith community, it is important to stay rooted in your Christian beliefs and values as you develop your ideas.
This can help make your writing more meaningful and persuasive for others who share your faith journey.
Once you've got your topic in mind, take some time to brainstorm about how best to present it.
Consider creating several different formats for content, such as text posts, photo essays, visual diaries, videos, or even podcasts if that's something that interests you.
Whatever type of content fits best with what you want to share will determine the most effective format for your blog posts.
Most importantly, make sure your content is engaging and interesting enough to hold the attention of your audience.
Step 2 – Select a Blogging Platform
Your next task is to select a blogging platform that best suits your needs.
We suggest WordPress.org with Bluehost. Overall it is the best blogging platform for beginners.
If you've never built a blog before, you may be wondering, what exactly is a blogging platform?
A blogging platform is a software that, when installed on your computer, will allow you to publish material on the internet. It enables you to publish your blog entries for the whole public to view.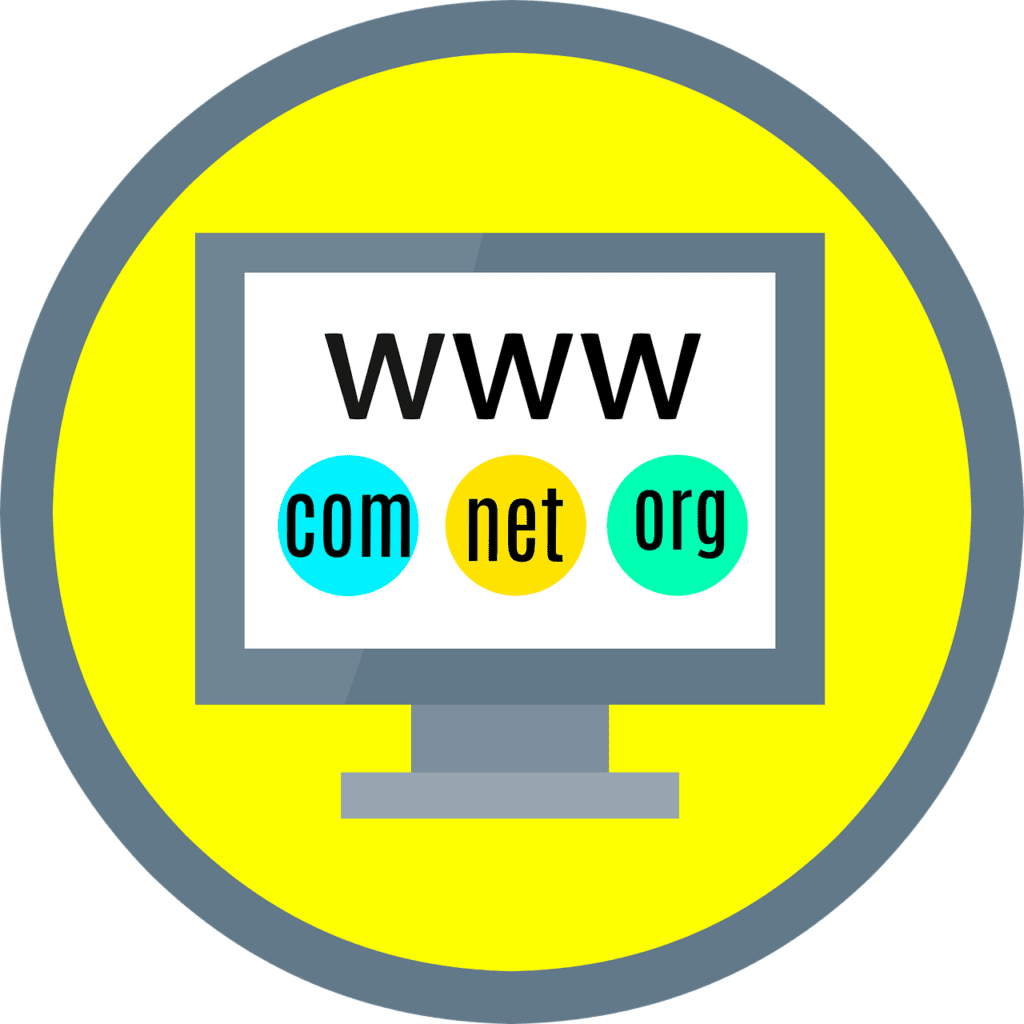 When it comes to launching a blog, you have a wide variety of choices accessible to you in terms of the blogging platform you may use. Some of them need payment, while others are completely free.
Free alternatives include Medium, Weebly, Blogger, Wix, and Squarespace among others.
Even though the ability to begin a blog at no cost may initially appear appealing, we do not recommend free blogging platforms. This is mainly because users of these platforms are subject to a large number of restrictions.
Why You Want to Steer Clear of Free Blogging Platforms
Building your site using one of the many available free blogging platforms comes with a number of drawbacks, including the following:
• You are unable to have a domain name of your own. For example, your site's URL will appear to visitors as "yourblog.medium.com" This does not look attractive or professional and is not personal to you.
• You won't be able to make money off of your blog.
The free blogging platform will be the one to manage the advertisements that appear on your site rather than you. You will have no control over the pieces that are being pushed.
You also do not have control over the placement of the advertisements on the website. In addition to this, you will not be permitted to make use of any third-party advertising networks on your own.
• Despite what you may think, legally you don't own your blog when you maintain it on a free platform. The service provider retains the right to remove your website from the internet for any of a variety of reasons.
In light of these facts, it is not difficult to understand why using a free platform would not be the best choice especially if you want to make money from your Christian blog.
So the obvious question is, which platform should you go with?
Why You Want to Choose A Self-Hosted Blogging Platform
To answer the question of which blogging platform to use, we recommend WordPress.org.
It is the platform that we use. It is a free, open-source software that you can install on your own web host to create a website that's 100% your own.
Be aware that WordPress.org and WordPress.com are two separate entities with the latter being the free blogging site.
Over a third of all websites on the internet are powered by WordPress.org's self-hosted platform.
Using WordPress.org grants you complete ownership of, as well as, control over your blog.
You can customize your site in any way you choose. And there are a variety of plugins and tools available to assist you in extending your site's capabilities.
In addition, the ways in which you may make money off of your blog site are virtually endless.
Advantages of Using WordPress.org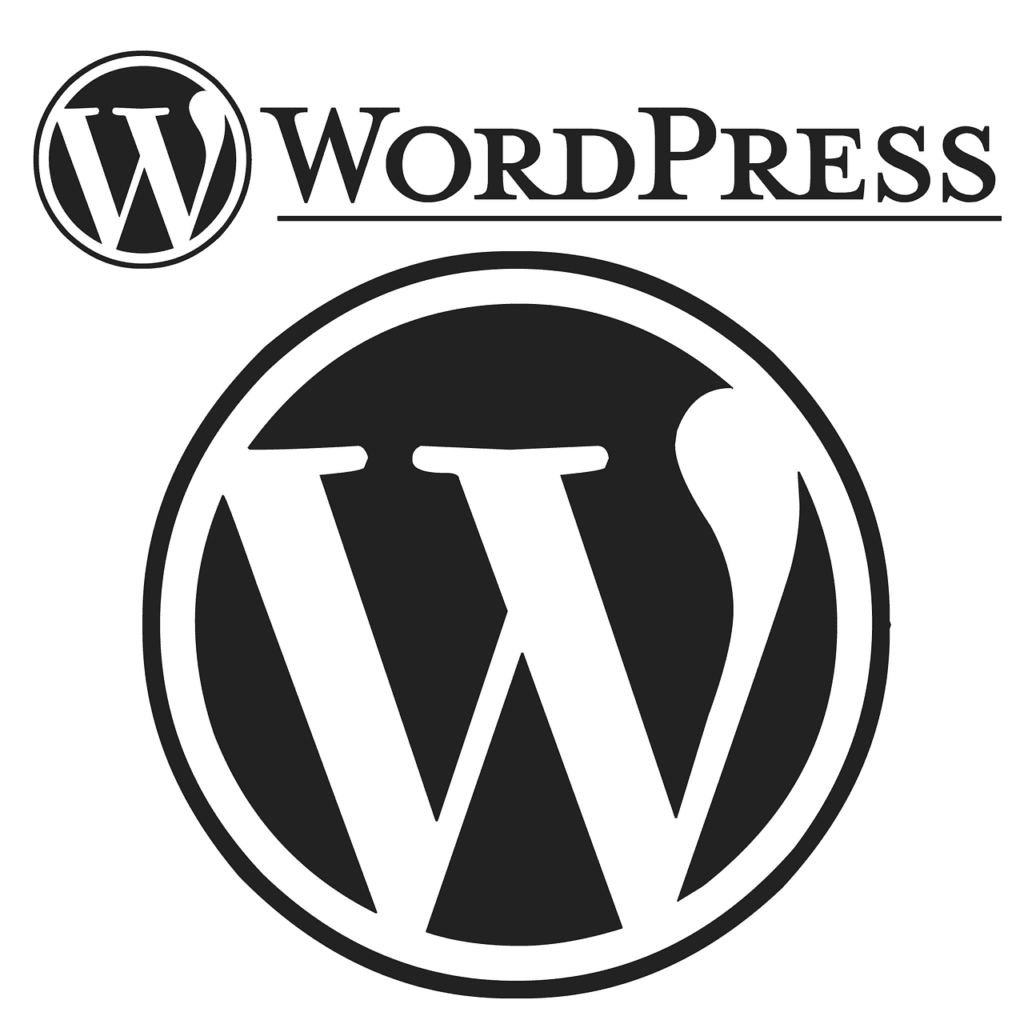 The following is a list of the benefits that come with using the self-hosted WordPress instead of any of the other free blogging platforms:
• The software that powers WordPress is entirely open-source and can be downloaded for free by anybody
• You are the owner of everything, including the data, that is stored on your website
• You have complete control over your website and you are free to make whatever modifications you see fit to it at any time
• On your website, you have the option of installing any number of the many plugins available
• You are free to accept advertisements from anybody and keep all of the money that is paid to you for advertising space on your site
• You can sell your own stuff on your blog
• The creation of your own training programs and membership websites are possible with WordPress
When starting a Christian blog, we recommend using WordPress.org regardless of whether you are a novice or an established blogger.
Step 3 – Register a Domain Name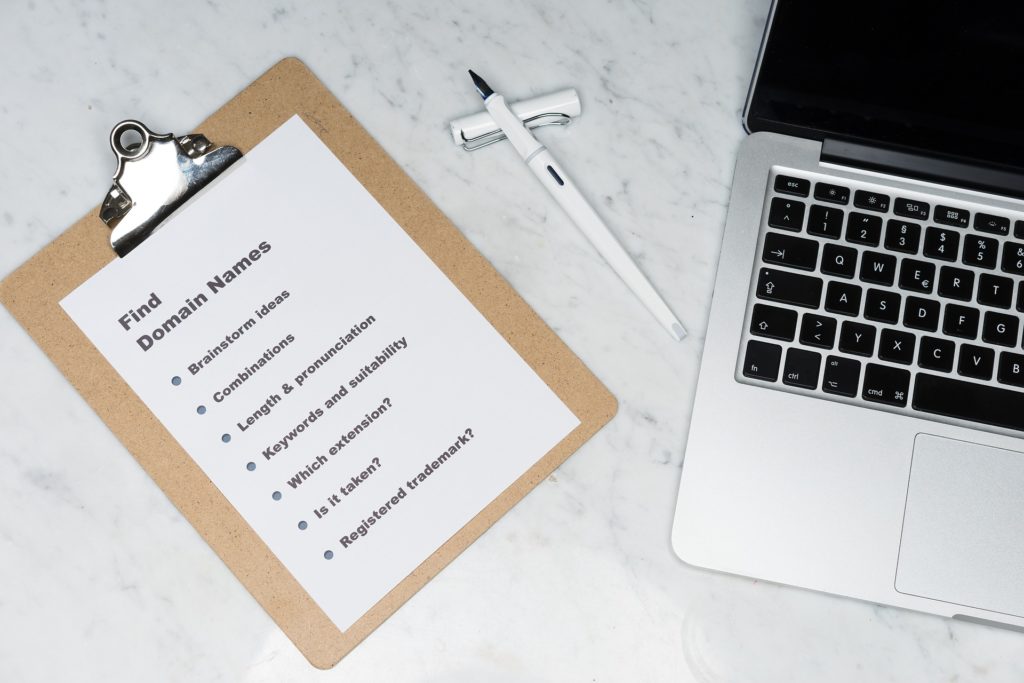 When starting a Christian blog, registering a domain name for your business website is one of the most important first steps.
This involves choosing a unique and memorable name that will help users find your site online. It should reflect the purpose of your site and be easily remembered by potential visitors.
Some tips for creating an effective domain name include:
• Keep it short and simple
• Don't use numbers or special characters
• Include commonly searched keywords where possible
When choosing a domain name, you will undoubtedly want to incorporate the subject matter of your blog in some fashion if it is going to be focused on a certain area of interest. However, you should make an effort to avoid being fixated on a single word.
Once you have selected a domain name, you can see if it's available by using Hover domain checker.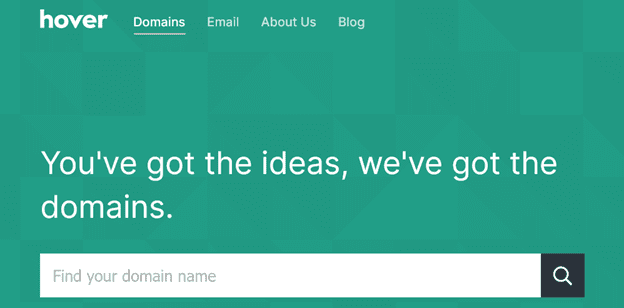 Some web hosting providers like Bluehost, Dreamhost, Hostinger, and Greengeeks, all offer a free website domain name for an entire year if you sign up for their website plan.
Step 4 – Set Up Web Hosting
Once you have registered your domain, the next step is to set up web hosting. This involves finding a web hosting provider that offers fast, secure hosting with plenty of storage space and bandwidth for your needs.
Hosting services are a crucial part of your website. They host the files that make up your site, so when visitors come to visit they see what you want them to. The hosting provider is like the virtual real estate on which your Christian blog is housed.
For Christian businesses and organizations, it is also important to look for a provider that has strong privacy protections and guidance for creating a positive online presence.
First, look for a hosting provider that offers templates and designs that reflect your faith.
Second, make sure the provider allows you to share your blog easily with your church community and other Christians.
Third, choose a provider that gives you the ability to connect with other Christian bloggers and build a supportive network.
These considerations are key in the process of how to start a Christian blog.
So, you are going to need three things in order to get your blog up and running: your domain name, blog hosting, which is also known as web hosting, and blogging platform.
The good news is that these items most often come in a single, convenient package.
Bluehost is a good hosting platform for Christian bloggers that include all these items. Also:
• They will ensure that no one else can grab your unique domain name by registering it for free and registering it in their system
• If for some reason you are not happy with the product, they will refund your money within 30 days
• They provide a service that installs WordPress for free and automatically
• They provide dependable web hosting that has been recommended by WordPress since the blogging platform's inception in 2005
• They presently host over 2 million websites and blogs
• They offer helpful customer care over the phone or via online chat around the clock
Let us now show you how you can buy your domain name and hosting with WordPress blogging software using Bluehost.
1. Start by clicking on this link which will open a new tab that takes you to a Bluehost's page pictured below.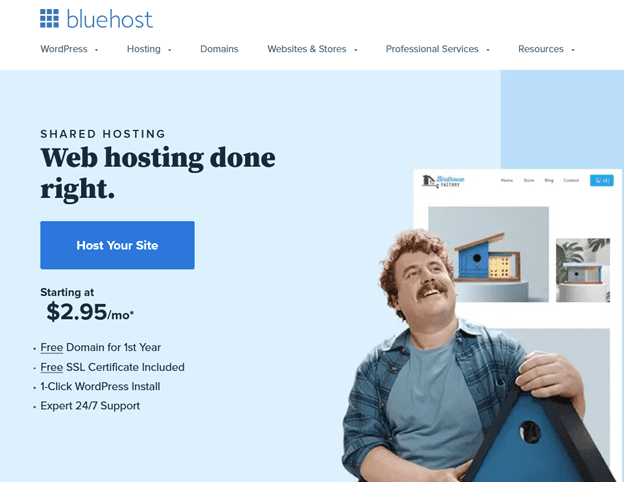 2. Click on "Host Your Site", which will take you to the shared hosting page where you can click on "Get started" after reviewing the plan options.
We recommend that you choose "Choice Plus" because of the additional features over the "Basic" plan. Extras like unlimited websites, unlimited SSD storage, free domain privacy and free automated backup for 1 year.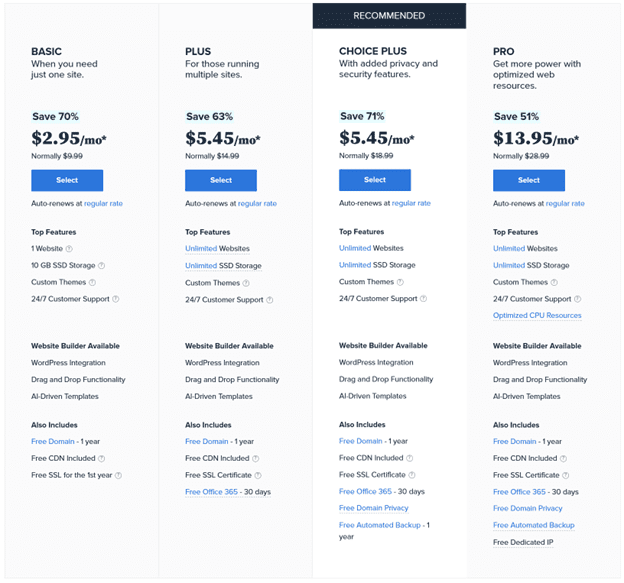 3. After selecting a plan, you will be sent to the next screen where you can either enter in your new domain or select the option that says "I'll build my domain later" if you haven't made a decision on which domain you want to use just yet.
The domain is the Uniform Resource Locator (URL) that users will enter into a web browser in the future to visit your website.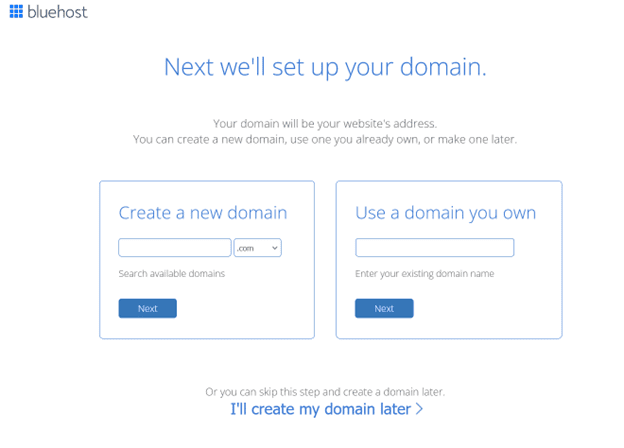 4. Once you have created a domain name or chosen to create one later, hit next to be taken to the next page.
Here you will be asked for all of your "Account Information." You will also select your "Package Information". You can choose between the 12 month price ($2.95/month) and the 36 month price ($4.95/month).
5. Next you can choose "Package Extras" if you want them. You can click on "More Information" to understand what each of these items is.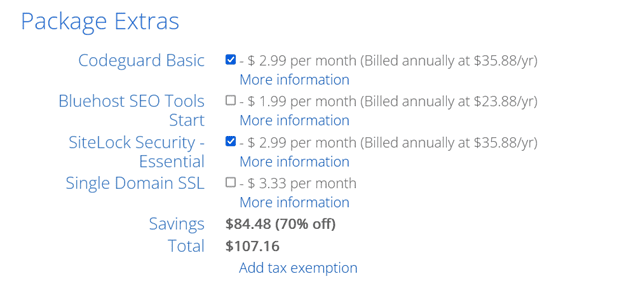 6. Next you enter your payment information.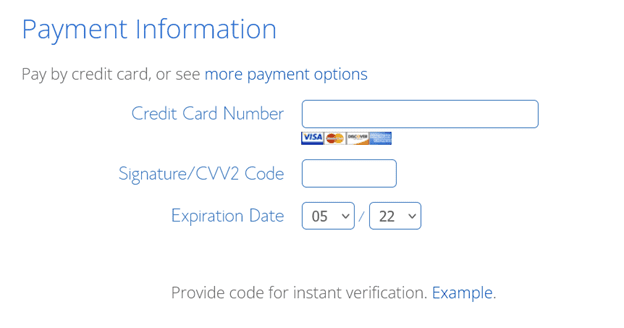 7. The final step of the process requires that you confirm that you've read and understood the Bluehost Terms of Service, Cancellation Policy, and Privacy Notice. Check the box and then click "Submit".

8. Following step 7, you will be asked to set up a username and password for your account.
You'll need to remember these details in order to log in to the Bluehost platform and manage both your website and your account information.
9. At this stage, Bluehost will walk you through a brief questionnaire in an effort to gain a better understanding of your specific situation.
You have the option of answering each and every one of these questions, or you may select the "Skip this Step" button at the bottom.
We would recommend that you answer the questions if you are a new user since it will make your onboarding experience better.
10. When you are through with that, you will be given the option to select a theme for your site.
You can get by for the time being by selecting to utilize one of the available free themes.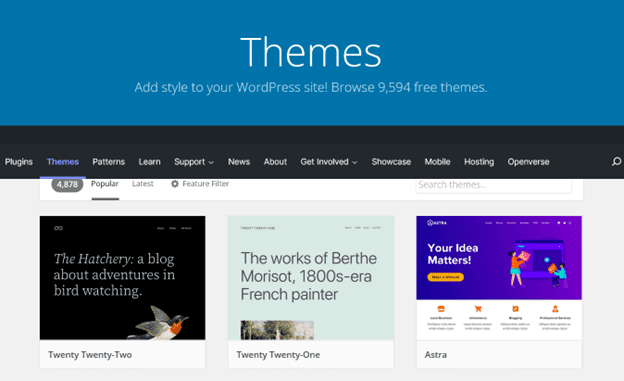 If you change your mind about the theme at a later time, you may easily change it.
11. After that, you'll be taken into the administration panel of WordPress, which is the backend of the platform.
This will be the location from where you will administer your site.
You are free to add new articles and pages whenever you see fit; but, when you are ready, you must click the blue button that reads "Launch Your Site."
Your admin panel would look something like the screenshot below.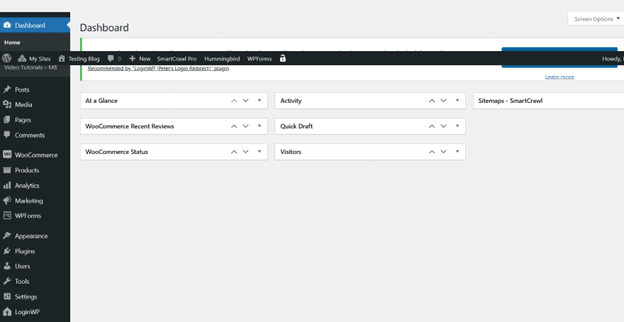 12. Final step: Your blog is now up and running. Simply open up a browser and enter in the address of your domain. As soon as you've finished doing this, you'll have access to your website.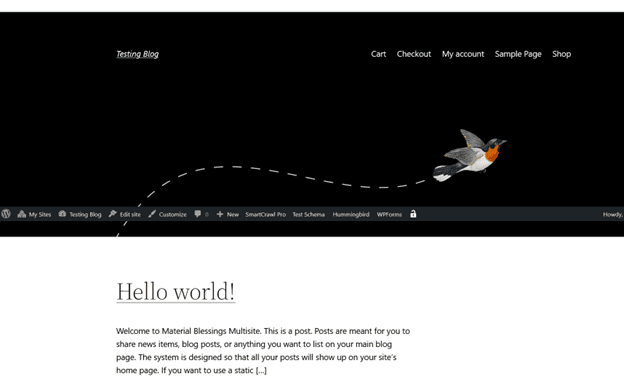 Congratulations!
Top-Rated WordPress Hosting Companies
Here is a list of some of the best WordPress hosting companies that are easy to use and that have good customer support:
To learn how to make changes to your new blog, all you need to do is open a browser, type in the URL of your website followed by /wp-admin, and log in.
The next two sections of this guide, (steps 5 and 6), on how to start a Christian blog covers just how you can make changes to your new blog.
Step 5 – Select a Theme and Design for Your Blog
We highly recommend "Divi Theme and Visual Page Builder" by Elegant Themes as your go to find themes and designs for your website.
It is the vendor that we use for all of our blogs and other websites and have not been disappointed in what they have to offer.
One of the most important decisions you'll make is choosing a theme for your blog.
The theme will determine the design and layout of your site, so it's important to choose one that reflects your style and personality.
But how do you choose a theme and design that will reflect your message?
Here are some things to look for in a great theme for your Christian blog:
– A responsive design that looks great on all devices.
– A selection of pre-designed layouts that make it easy to create a professional-looking blog.
– A range of customization options so you can change the look and feel of your site.
– Support for all the essential WordPress plugins.
– A fast and lightweight codebase that ensures your site loads quickly.
Simply said, the theme of your website refers to its front-end design. The platform you use determines the format and presentation of your blog.
If you are using WordPress, think of the theme as the furniture and the design as the way your site is decorated.
You can always replace the WordPress default theme with one of your own creation using the switcher in the Appearance menu.
You have a wide variety of options available to you, including free and premium themes to pick from.
Free choices always come with certain restrictions, and this holds true not only for blogging platforms but for everything else on the internet as well.
For example, many of the free WordPress themes available tend to come packaged with dangerous malware that might possibly harm your website.
This is because WordPress is an open source platform where anyone can contribute themes.
In addition, free themes don't have very good modification options, and usually have a really amateurish appearance.
The decision to go with a premium theme rather than a free option comes with a number of advantages, some of which are detailed below.
Benefits of Utilizing a Premium WordPress Theme
• Premium themes are quick, and Google favors websites that are quick
• You can choose from a wide range of templates to suit your taste and preference
• They are easily customizable, which allows you to make your blog look exactly how you want it
• You get full support in the event that you have any problems or questions
• Premium WordPress themes are updated on a regular basis
• Premium WordPress themes are kept up to date
For the reasons listed above, we recommend "Divi Theme and Visual Page Builder".

Divi is a popular WordPress theme developed by Elegant Themes.
It is a versatile theme that can be used for a variety of websites, including business, personal, and eCommerce sites.
Divi comes with a wide range of features and options, making it one of the most popular themes on the market.
It's loved by users for its flexibility, ease of use, and extensive customization options.
Here are 8 of the best features of the Divi theme that will be beneficial to your blog site:
1. The Divi theme is extremely versatile and can be used for any type of website.
2. It's very easy to use, even for beginners.
3. Divi comes with a drag-and-drop page builder that makes it easy to create custom layouts.
4. The theme includes access to over 1900 premade layouts that you can choose from to start designing your blog.
5. Divi is fully responsive and looks great on all devices.
6. The theme includes a visual CSS editor that makes it easy to customize your website's style.
7. Divi comes with lots of powerful built-in features, including an email opt-in module, social media integration, and an eCommerce module for creating an online store.
8. You can extend the functionality of the Divi theme with third-party plugins or by creating your own custom code snippets.
As a Christian blogger, the last thing you want is a home on the Internet that is dull and uninviting. This is why it is essential to select an appropriate theme for your website.
Step 6 – Build Important Web Pages and Create a Logo
When thinking about how to start a Christian blog that will be successful, it will take more than just writing great content. You also need to create key pages that will help your blog stand out and attract readers.
Some essential pages to include on your site are an About page, a Contact page, and a Privacy Policy page among others.
Here's how to create each one:
About page: This is where you tell readers who you are and why they should care about your blog.
Be sure to include a strong headline and several paragraphs of compelling text.
Consider outlining your blogging mission statement.
You can also include photos and videos to make your page more visually appealing.
Contact page: This is where your readers can go to get in touch with you.
Include your email address, social media links, and any other contact information you want to share.
You can also add a contact form so that your readers can easily send you messages.
Privacy Policy: This is an important page for any blog that collects personal information from users.
Your Privacy Policy should explain what information you collect and how you use it. Be sure to include a link to your Privacy Policy.
Additional Pages: For additional pages, you can investigate the content of blogs that are already operating in the same market as yours.
Examine their websites' most important pages to garner inspiration for developing your own.
What are the contents of the additional pages that they have?
What kinds of information are you able to obtain from them?
Make use of this material as a source of inspiration for new ideas for creating the pages on your own site.
Design a Logo: One important step as you are looking into how to start a Christian blog, you need to create a logo for your site. You want to do this before you start writing. A logo will help you to establish your brand and make your site more recognizable.
We recommend Canva as a good resource for creating your logo.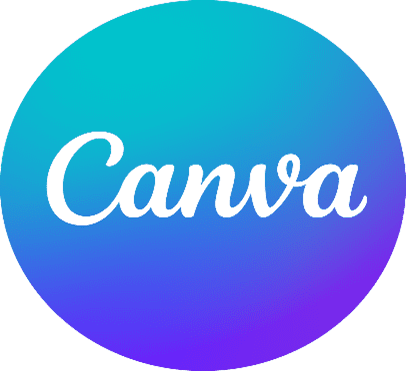 Fortunately, creating a logo doesn't have to be difficult or expensive.
With a little time and effort, you can easily design a logo that is both stylish and meaningful.
First, decide on the overall look and feel of your logo.
What colors do you want to use? What style of font? Black and white are always classic choices, but you can also use brighter colors to make your site more eye-catching.
Regarding the style of font that reflects the tone of your blog, if you want to appear more professional, opt for a serif font, such as Times New Roman.
However, if you want your site to have a more relaxed feel, try using a sans serif font, such as Arial.
Once you have a general idea of the look you're going for, you can start sketching out some ideas.
If you're not much of an artist, there are plenty of online resources that can help you create a professional-looking logo.
Once you've settled on a design, it's time to add your blog's name and tagline (if you have one). Make sure that the font you use is easy to read and that the overall design is balanced.
Remember, your logo will be appearing on everything, from your website to social media, so it needs to be legible in a variety of sizes.
You can add some graphics or symbols to your logo to make it more unique. For example, you could include a cross or other religious symbol if you are starting a Christian blog.
Finally, save your logo in a format that can be used online and in print. A vector graphic is ideal, as it can be easily scaled up or down without losing quality.
With these simple tips in mind, you'll be on your way to creating a logo that perfectly represents your site.
Step 7 – Write Your First Blog Post
Jasper AI is the best blog writing software whether you are just starting out with your blog or have experience blogging.
First and foremost, it is important to remember that when writing Christian blog posts, the posts should always reflect your faith and be infused with a sense of purpose.
So before you begin to write, take some time to think about what message you want to convey through your words.
If you are just starting out as a blogger, you might discover that it is a little challenging to think of themes and categories for your writing.
In point of fact, even seasoned writers run from writer's block from time to time when it comes to their Christian blogs.
If this describes you, don't worry. For these reasons, we suggest that you use the blog writing software, Jasper AI.
Jasper AI is the best blog writing software for a number of reasons.
First, it has a built-in content writing assistant that can help you to generate new ideas and titles for your blog posts.
Second, it includes a grammar checker and spell checker, so you can be sure that your blog posts are error-free.
Third, Jasper AI can help you to promote your blog by automatically sharing your posts on social media.
Fourth, Jasper AI offers a number of other features that make blog writing easier, such as templates, post scheduling, and analytics.
For these reasons we believe that for blog writing software that will make your life easier, and help you to produce better content, Jasper AI is the best choice.
Whether it is inspiring others through your words or sharing advice based on your experiences, keep in mind that with every piece of writing, you have the power to make a difference in someone's life.
Before you start putting pen to paper (or fingers to keyboard), do some research on top Christian blogs in your field or niche.
Some resources of the best Christian blogs can be found in free Christian blogs and the best Christian women's blogs online.
This will help you to get an idea of the style of Christian blogging writing that resonates with readers, as well as the keywords and content that they respond to most.
When it comes down to it, good blog post writing is all about knowing what type of content will engage your audience and keep them coming back for more.
Finally, when it comes time to actually writing blog posts, remember that quality matters more than quantity.
Blog writing software can help you produce high quality material in a time saving and efficient way.
Again, we highly recommend Jasper AI.
How to Develop Engaging Content for Your Blog
In order to produce outstanding material for your blog, offer answers to the questions and concerns that your audience raises.
The worst thing that can happen to you as you embark on how to start a Christian blog, is for you to begin a blog in which you simply speak about yourself and the things that have happened to you. Without making any effort to either recognize or address the issues of other people can drive readers away.
Therefore, you should divide your specialty into around three to five categories or subtopics. You can certainly add new categories later on.
For the categories you have selected, think about a variety of titles that may fit each category.
If you are having difficulties with this, you may make use of Jasper AI to assist you with this.
Otherwise, you can use free internet tools such as SEOPressor.com to assist you in conceiving titles for the blog entries that you write.
Don't feel pressured into trying to churn out new content on a daily basis, since this can actually turn off potential readers.
Instead, focus on creating truly unique and valuable posts that will keep your blog audience coming back for more.
Some More Blogging Tips
Remember to keep the following blogging tips in mind while you write the pieces for your blog:
• Infuse your writing with feeling when you write. Emotions move people. And messages that tap into people's feelings are likely to get a high level of engagement from your audience.
• Ask questions. In order to foster a two-way conversation with your audience, be sure to include questions in all of your blog entries.
• You can keep your audience interested by telling stories. Never be reluctant to offer your own personal experiences with the purpose of motivating your audience and keeping their interest.
• Remember to stay on topic. Every single post that you compose has to be filed away in one of your categories.
• Add keywords. In order for visitors to be able to locate your blog post online, you need to incorporate a wide range of topic keywords throughout the piece.
• Search engine optimization. The search engine optimization (SEO) of your blog is of the utmost significance if you want it to be seen on the internet.
At first, you should prioritize including significant keywords in all of your posts so that Google can direct people to your site. You want to ensure that you do this right from the beginning to get the best results.
Nevertheless, this is an ever-evolving field, and you need to maintain your education to stay current on the most recent SEO best practices. We suggest you take a look at Ahrefs as a learning resource.
Step 8 – Create a Content Calendar
By now you might be wondering how often you should be posting the content you want to share. That's where a content calendar comes in.
A content calendar is simply a plan for what you'll be posting on your blog and when. Having a calendar helps to keep you organized and on track. It can also be a helpful way to brainstorm ideas for new content.
Not sure how to get started? Here are some tips:
1. First, take a look at your overall goals for your blog. What do you hope to achieve? Are you hoping to grow your audience, or generate more leads for your business?
Once you know your goals, you can start to plan what kind of content will help you achieve them.
2. Once you know what kind of content you want to create, it's time to start thinking about how often you'll be posting. If you're just getting started, it's probably best to start with 1-2 posts per week.
As you get more comfortable with blogging, you can increase your frequency if needed. Just make sure that you're realistic about how much time and energy you can commit to writing your Christian blog posts.
So as we mentioned before, one of the best ways to keep your content organized is to create and use a content calendar.
Content calendars come in many different forms, but they all serve the same basic purpose: to help you plan and track your content.
There are a few different things that you should look for in a content calendar, regardless of which specific format you choose.
First, it should be easy to use and understand.
Second, it should be flexible enough to accommodate last-minute changes.
And third, it should be able to sync with your other content-related tools, such as your social media scheduling tool.
There are a number of different content calendar templates available online, so finding one that meets your needs should not be difficult. The important thing is to take the time to find a content calendar that works for you and your blog.
For example, the Google Calendar is a great option for bloggers who want to keep their content organized and accessible all in one place. Plus, it's FREE to use.
Another thing you can do is to create your own using Word or Excel if you have that software.
Step 9 – Setup Your Email Marketing List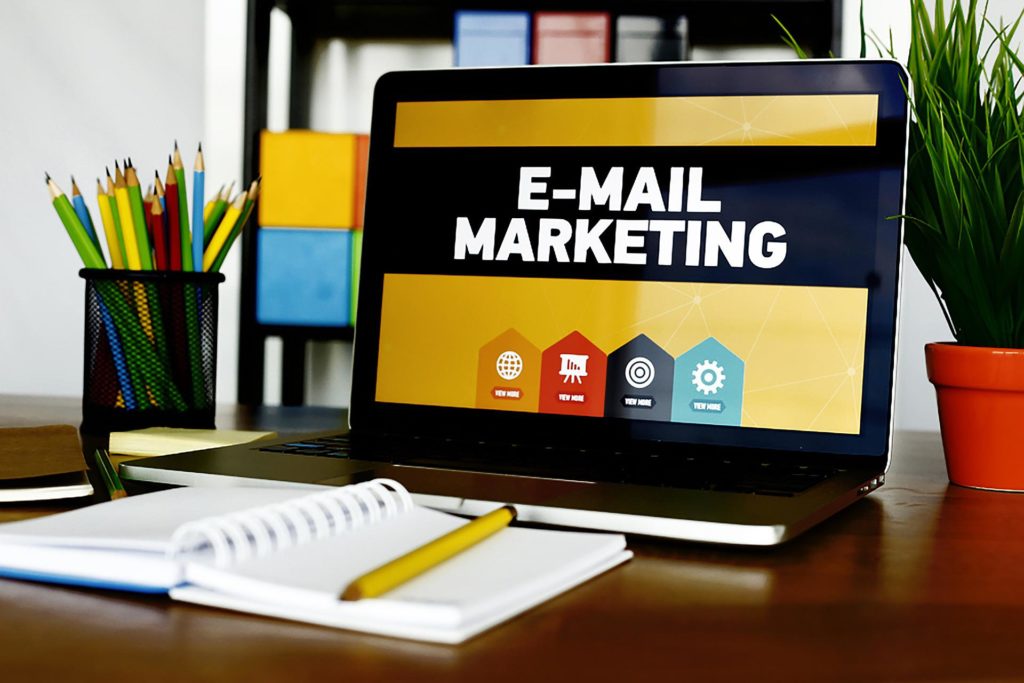 Once you start creating blog posts, one of the first things you'll need to do is set up your email marketing list.
This will help you stay in touch with your readers and let them know when you've published new content. Here's how to set up your email marketing list:
1. Choose an email service provider. There are many different options available, so take some time to research the best one for your needs. Some factors you may want to consider include price, features, and user-friendliness.
We recommend GetResponse

Here's why we recommend GetResponse:
First, they offer a wide range of email marketing tools to help you create successful campaigns.
From automated email sequences to sophisticated tracking and reporting, they have everything you need to get the most out of your email marketing.
Second, their deliverability is impeccable. This means that your emails are more likely to land in inboxes than if you were using a less reliable email service provider.
Third, their customer service is outstanding. If you ever have any questions or problems, their team is always quick to respond and help you resolve whatever issue you're having.
Overall, GetResponse is an excellent email service provider that offers a wide range of features, great deliverability, and excellent customer service.
2. Create a sign-up form. This should be something that's easy for your readers to fill out and submit.
Include fields for their name and email address at a minimum.
You may also want to add optional fields for things like their city or country.
3. Promote your sign-up form. Make sure your readers know about your sign-up form by promoting it on your blog and in your social media posts. You can also include a link in your email signature.
4. Welcome new subscribers. Once someone signs up for your list, send them a welcome email to introduce yourself and thank them for subscribing.
You may want to include links to some of your best blog posts so they can get started reading them.
That's it! By following these steps, you'll be well on your way to building a successful email marketing list for your blog.
Step 10 – Start Promoting Your Blog
Starting a blog can be an exciting and rewarding endeavor, but it is also important to promote your blog in order to build a strong readership and audience. This is important in your decision about how to start a Christian blog.
There are many different ways that you can promote your blog, both online and offline.
For example, you can post updates on social media sites like Facebook and Twitter, or share links to your blog content with friends and followers in person.
However, your first order of business should be to inform your loved ones and close acquaintances about the launch of your new Christian blog.
Request that they check it out and provide you with their thoughts and feedback when they do so.
In addition to this, you should request that they share it with the friends and family that they already have in order to give your new blog even more visibility.
Also, many churches and other religious organizations host regular blogs that focus on various topics related to faith and spirituality.
By networking with other bloggers within your church community, you may be able to garner valuable exposure for your own blog.
Additionally, many churches offer free advertising spaces on their website or in their newsletters and church bulletins, allowing you to reach even more potential readers through these channels.
Take advantage of the power and potential of email marketing that you have set up. You can send them a link to your new blog and request that they go to your Christian blog, read your postings, comment on them, and share your site with other people.
Ultimately, the key to promoting your blog is finding effective strategies that resonate with your target audience and fit within your time constraints.
With the right approach around how to start a Christian blog, you can help ensure that your blog reaches its full potential.
Step 11 – Monetize Your Blog – Start Making Money
As you analyze how to start a Christian blog to generate some income from your work, there are several ways that you can monetize your blog.
Some of the most common options include promoting affiliate partnerships, selling ad space on your site, or offering sponsored posts for brands.
Affiliate marketing is when you join an affiliate network or program and get paid for recommending people to purchase certain items. This type of marketing allows you to earn a passive income online.
When you sign up to participate with an ad network such as Google AdSense for example, visitors to your blog will see advertisements placed there by Google. When one of your customers clicks on one of the advertisements, you will earn a modest commission.
Another way to make money from your blog site is by selling your own goods or services. This is one of the most effective strategies you can use to earn money from your Christian blog.
You will be able to keep 100% of the money from your consultancy services, physical items, or information products such as e-books, courses, and so on. You will have complete control over the product or service you are selling.
No matter what strategy you choose, there are many opportunities available for you as a Christian blogger to earn an income from your work.
Whether you are a church leader or social media influencer, investing in a profitable blog can be a great way to expand your influence and reach new audiences.
But before you start monetizing your site, it is important to focus on building up a solid foundation of engaged readership. This is where your email marketing campaign comes into play.
By laying down strong roots in your niche community and establishing yourself as an expert in your field, you will eventually be able to monetize your blog with greater success and confidence.
So if you want to start earning money from what you love doing most, don't hesitate – put in the hard work now so that you can reap the rewards later.
Conclusion
Blogging can be a great way to share your faith with the world or document your journey as a Christian, whether you are a beginner or not.
Whether you're looking to create your own blog or keep an existing one going, there are a few key tips that can help you succeed.
The first is to establish clear goals that will guide your writing and ensure that you always stay on topic.
Additionally, it's important to craft your writing with a strong sense of purpose and meaning.
And finally, don't forget to build your community by connecting with other bloggers and engaging with commenters on your posts.
Whether you're working from within the walls of the church or simply seeking a community online, keeping your Christian blog going requires dedication and commitment.
But if you put in the hard work and persevere through the ups and downs, the rewards will be well worth it.
In order to promote your blog, you can post updates on social media sites, share links to your blog content with friends and followers, and network with other bloggers within your church community.
Additionally, you can utilize strategies like affiliate partnerships and sponsored posts to monetize your site. And with a little time and effort, you can keep your blog going strong for years to come – so why wait?
Finally, if you want to know how to start a Christian blog, the best place to begin is by following these 11 easy steps.
In just a short time, you can be on your way to launching a popular blog that will help you reach new audiences and share your faith with the world.
If this article was helpful to you, please share it with others who might benefit from it, and be sure to check out our other blog posts here.
Also, if you have any questions or comments, feel free to leave them below or send us a message. We will be glad to hear from you.
May our Lord Jesus bless you and your blogging business!