Do you find that you have a hard time concentrating on what you're writing? Or, are you having trouble generating writing content? Have you been trying to find a solution to these issues? If so, then Jasper AI writing software is the BEST way out for you.
AI writing software is becoming more and more common in today's world, and for good reasons.
AI writing tools are powerful, efficient, and intuitive, making it easy for anyone to achieve impressive results in their writing endeavors.
Jasper AI features make it the perfect writing assistant tool for those who want to write more effectively.
This writing assistant can help you with everything from crafting the perfect sentence to finding the right word for your next story.
Brief Summary of Jasper AI
Price
Features
Functionality
Provides two pricing options. The lower plan is the "Starter" plan and costs $29 per month.
The generation of long-form content or shorter text pieces using more than fifty copywriting templates.
Use this content producing assistant that focuses on high quality results.
The higher-priced plan is "Boss Mode". It starts at $59 per month and allows for an infinite amount of content generating use.
Twenty-five plus languages supported.

Can give commands in Boss Mode.

Content templates and recipes, SEO Mode, and many other features.
Eliminates the normal work and bottlenecks that come with producing content manually.

The potential is unrivaled, and the learning curve is rather shallow.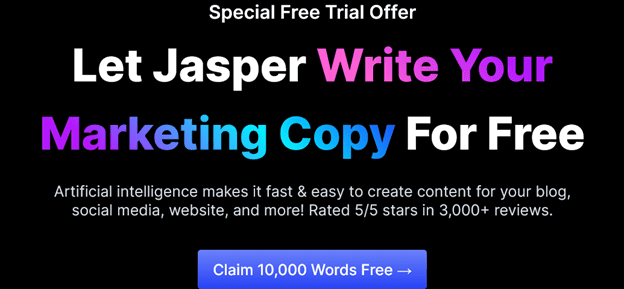 In this blog post we will cover:
2. Who is Jasper AI designed for?
3. What makes Jasper AI the best choice for writing?
4. What are the features and benefits of Jasper AI?
5. How to get started with Jasper AI
What is Jasper AI?
Jasper AI (formerly known as Jarvis AI) is a tool for writing that makes use of artificial intelligence and machine learning to generate human-like text.
The natural-sounding human language writing is powered by GPT-3.
GPT-3 stands for "Generative Pre-trained Transformer 3." It is a new kind of language model that uses artificial intelligence and has been trained with a lot of data.
The result is an AI that can write text and code when given a broad concept or a general idea to work from. For example, you could ask this kind of AI to write an essay for you.
What makes Jasper AI different is that it was specifically designed for writers of all levels of experience and genres.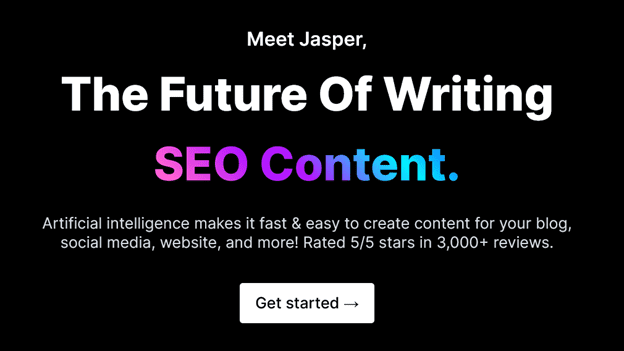 Who Is Jasper AI Designed For?
All types and levels of writers and content creators can take advantage of this software writing tool.
Jasper AI has advanced algorithms and natural language processing capabilities.
This cutting-edge software is able to analyze your content at a granular level and provide detailed feedback and suggestions for improvement.
In addition, it keeps track of your writing progress over time, allowing you to track your learning curve and see tangible results for your efforts.
Here is a list of who the software is designed for. Although this is not an all-inclusive list, it gives you the broad scope of coverage the software targets:
• Bloggers struggling to come up with new ideas for blog posts or just want a faster approach to writing articles
• YouTube video creators who want clear and concise video summaries
• Premium social media material needed by social media managers and influencers
• Entrepreneurs who want to write powerful product descriptions for their business
• Authors looking for an effective writing helper to help produce ideas and rework passages
• Small enterprises and start-ups in need of marketing assistance
• College and High School students
• Affiliate marketers
• Owners of digital marketing agencies
• Anyone who can't afford or doesn't have the time to hire a human writer
• Anyone who wants to improve their writing or marketing skills and be more persuasive
What Makes Jasper AI Your Best Choice for Writing?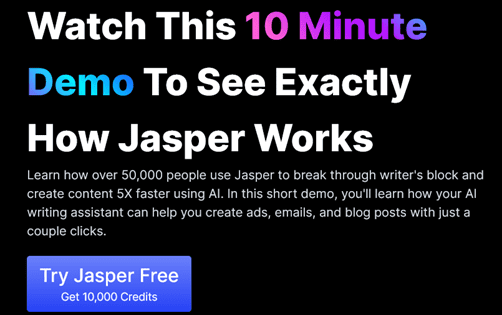 To answer this question, let's take the example of a blogger.
You have a unique perspective to share with the world. You also have a unique set of challenges when it comes to finding the right AI writing software.
With so many AI writing tools on the market, it can be difficult to know which one is the best fit for your needs. However, there are a few key reasons why Jasper AI is the best choice for you.
First, Jasper AI was created specifically with content writers in mind.
The software is packed with features that are designed to help you save time and produce higher-quality content.
This AI writing software uses machine learning that constantly updates to stay up-to-date with trends. So you can rest assured that your work will meet the highest standards in the industry.
The software can also help improve your grammar, style, and overall writing quality.
The software can suggest that you use a more active voice in your writing. This could make your writing more engaging and easier to read.
Not only that, Jasper AI writing software can also help save time creating your blog posts.
Why?
Because you can spend less time editing and revising your work, and more time writing new content for your posts.
For example, Jasper AI includes a plagiarism checker that can help you avoid copyright issues, and a built-in thesaurus that can help you expand your vocabulary.
Second, Jasper AI offers unbeatable value for money.
The software is affordably priced and comes with a FREE trial period so that you can test it out before committing to a purchase.
In addition, Jasper AI offers opportunities to earn bonus credits, making it even more affordable.
Finally, a team of world-class customer support professionals backs Jasper AI. If you ever have any questions or issues, feel free to reach out to them and get the help you need.
The Jasper team are regularly and consistently making improvement and adding new features to the product for a better user experience.
All these reasons why Jasper AI is the best choice for blog post writers can be applied to any type of writer. Overall, it can help you write better content.
What Are The Features and Benefits of Jasper AI Writing Software?
Here are just some of the key features and benefits Jasper has to offer:
| Features | Benefits |
| --- | --- |
| Capable of understanding human language | Writes in 25+ different languages |
| Optimizes your blog for SEO | Produces original content with keywords that can improve your SEO ranking and increase traffic |
| An easy-to-use interface | Easy to quickly learn how it works |
| Templates | 50+ templates of different writing skills. They allow your writing to flow in an organized fashion with speed and accuracy |
| Recipes | Pre-built workflows of commands that can be over and over again. They are customizable to meet your needs and the topic you're writing on |
| Plagiarism Checker | To prevent copyright problems |
| Built-in Thesaurus | Helps to expand your vocabulary |
| Grammarly | Helps on grammar, formatting, spelling, sentence structure and more. Prebuilt into all documents |
In addition to these, the software will help you: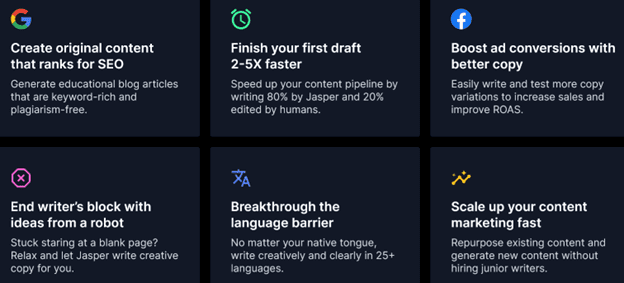 Jasper AI Templates
Jasper's user experience is enhanced by the usage of a wide range of templates. You can use these templates to produce documents such as eBooks, blog posts, press releases, product descriptions, company bio, ad descriptions, and much more.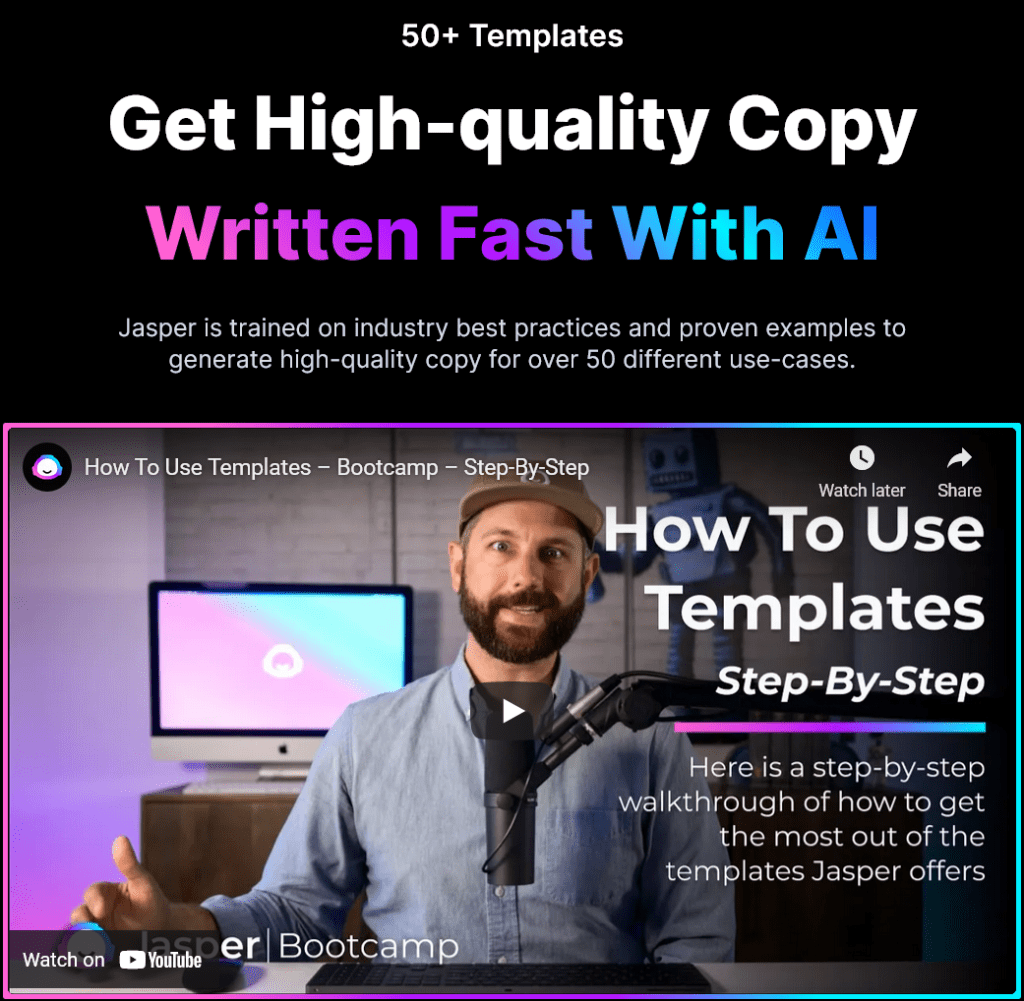 There are 55 templates available for use. Below are descriptions of eight of the fifty five templates.
Boss Mode Documents: Perfect for creating long content from start to finish.
AIDA Framework: This uses the marketing guide – Attention, Interest, Desire, Action to help you write things like email marketing campaigns and website landing pages.
PAS Framework: This powerful template – Problem, Agitate, Solution, helps you create content that is extremely appealing.
Product Description: You can create convincing product descriptions for your websites, social media, emails, and so on.
Blog Post Topic Ideas: This will help you brainstorm fresh ideas for blog posts that will interest your readers and do well in Google's search results.
Creative Story: To entice your readers, write original stories that they'll enjoy.
Amazon Product Features (bullet points): Create essential features and benefits in bullet points format for Amazon listings under "about this item" section.
YouTube Video Description: Write original descriptions for each of your YouTube videos so that they perform well in search engine results.
Recipes
Recipes are pre-made workflows that comprise of a set of Jasper commands that you can use repeatedly to produce content with Jasper.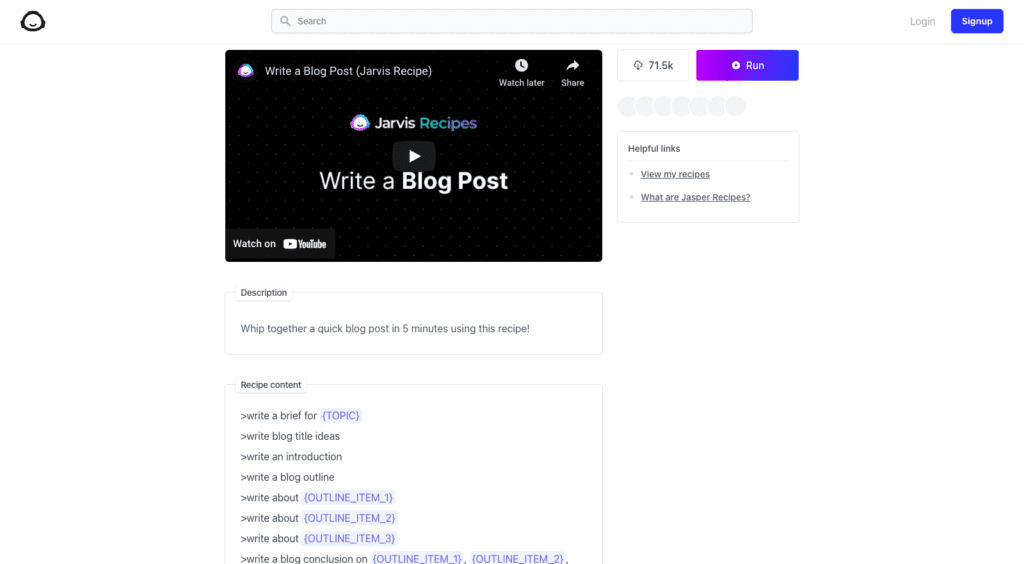 Recipes are also useful when you need to produce content quickly.
How To Get Started with Jasper AI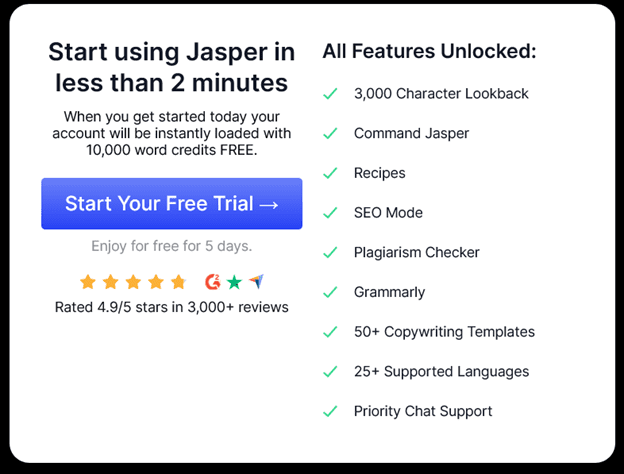 Click here to sign up today!
Pricing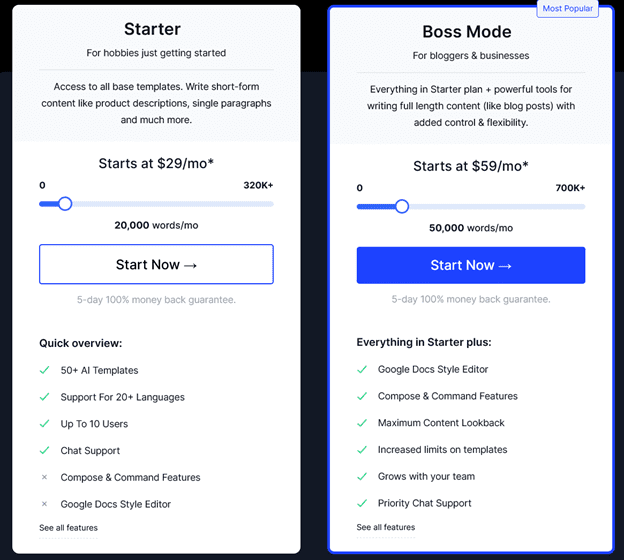 Jasper's pricing starts at $29 per month for a Starter account, which includes basic features like AI assistance with writing, templates, and up to 25 languages.
For more advanced features, such as advanced AI assistance with content creation, SEO optimization, and more, you can upgrade to the Boss Mode account for $59 per month.
With either account, you'll get access to Jasper's friendly and knowledgeable customer support team. So if you're a blogger looking for the best AI writing software to help you improve your writing skills, Jasper is the perfect choice.
Frequently Asked Questions (FAQs)
Q: Can I give Jasper special commands?
A: Yes in the "Boss Mode". You can give Jasper instructions to write on a topic. The instruction can be typed or voice activated.
Q: What is behind Jasper's writing ability?
A: GPT-3 is used in all the copywriting templates, short and long. Users can expect outcomes that are on par with or even better than those of human copywriters.
Q: Is it possible to use Jasper for agency clients?
A: The answer is yes. Features like client workspaces, separate billing, and team seats for agencies are all incorporated right into the platform.
Q: Is training provided to use Jasper AI?
A: Yes. In order to get the most out of Jasper AI, you can sign up for a Bootcamp.
In the Bootcamp, you will learn all of Jasper AI's features so that you may utilize them to produce high-quality content in a variety of ways.
Q: Is there an affiliate program?
A: Yes. For every paying customer, the Jasper AI affiliate program pays a 30% recurring commission each month.
Final Thoughts
Jasper AI is designed specifically with content writers in mind and comes packed with features that will help you write better content, faster.
With its machine learning capabilities, Jasper AI is always up-to-date with the latest trends in the industry, so you can be sure that your work will meet the highest standards.
So if you're ready to take your writing to the next level, sign up for a free trial of Jasper AI today and start writing better content right away.
You will get 10,000 words of FREE credit added to your account right away.
If this article was helpful to you, please share it with others who might benefit from it, and be sure to check out our other blog posts here.
Also, if you have any questions or comments, feel free to leave them below or send us a message. We will be glad to hear from you.